Energix Campaign
The Virginia Coalition for Human Rights (VCHR) supports responsible solar energy, but it opposes the construction of solar energy projects by Energix in Virginia. The map below shows the status of Energix solar projects as of July 2021.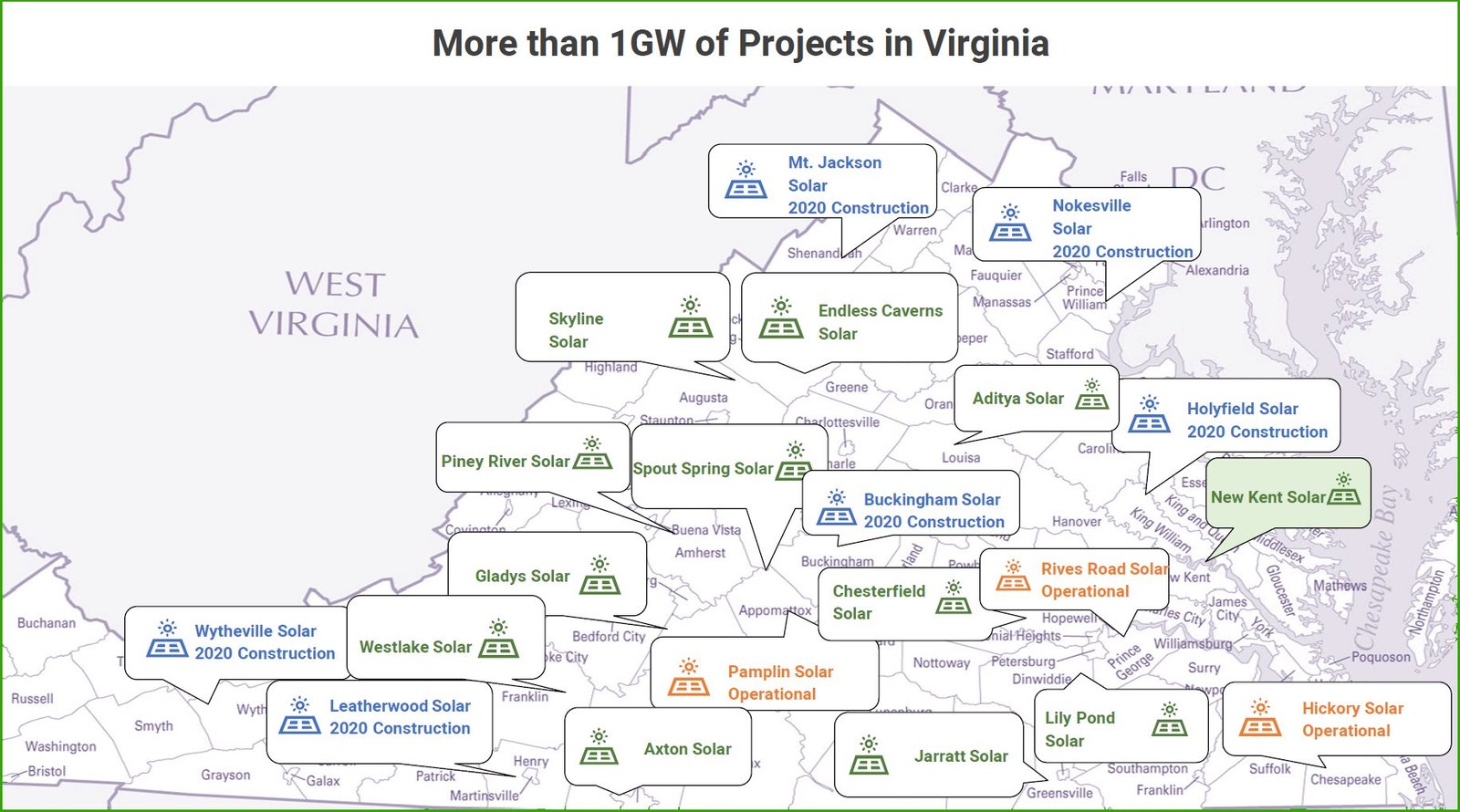 VCHR opposes Energix because it is an LLC incorporated under Energix Group, Ltd., an Israeli-based company that has been cited by the United Nations for its violations of human rights in the West Bank and the Golan Heights.
Cited as #32 on a United Nations list for constructing renewable energy projects on occupied land in Palestine and in Syria, Energix has brought its worst practices to Virginia that has resulted in almost $200,000 of fines imposed by the state Department of Environmental Quality. In addition, Energix exclusively utilizes solar panels that consist of the toxic metal alloy Cadmium Telluride (CdTe), which has the potential to leach into soil and water.
To date (June 2023), Virginia communities in six counties have successfully prevailed over seven Energix utility-scale solar projects: Lily Pond Solar in Dinwiddie; Piney River Solar in Amherst; Mountain Brook Solar in Franklin; New Kent Solar in New Kent; Helios solar in Pulaski; Racehorse Solar in Caroline; and Westlake Solar in Franklin.
Because of this pushback, Energix has been denied or has been forced to withdraw applications, which has resulted in the stalling or cancellation of approximately $2.2 billion in Energix projected revenue over a 45-year period.
---
On March 4, 2022, Jeanne Trabulsi presented a comprehensive overview of the Eject Energix campain at the Transcending the Israel Lobby Home and Abroad Conference 2022. The conference was held at the The National Press Club and organized by the Washington Report on Middle East Affairs and the Institute for Research: Middle Eastern Policy, Inc.
---
What can you do?
Customize these VCHR documents to the community to suit your purposes:
---
DEQ Fines to Energix
03/06/2023 - DEQ Enforcement Action - Consent Order (CO) issued to Energix for violations at seven Energix sites
06/08/2022 - DEQ Enforcement Action - CO issued to Energix for Caden Energix Wytheville
06/08/2022 - State Water Control Board Enforcement Action - CO issued to Energix for Buckingham Solar II
Press Releases
01/13/2023 - VCHR: Virginia communities petition authorities to cancel Energix solar projects jeopardizing the Israeli firm's revenues
06/20/2022 - Israel's Energix Renewable Energies fined over $90,000 in Virginia for Environmental Violations
09/10/2020 - VCHR opposes excessive Virginia subsidies to Energix Renewable Energies, Ltd.
02/24/2020 - Chesapeake should revoke Energix solar energy permits over UN designated human rights concerns
Newspaper Articles
05/18/2023 - The News and Advance: Energix withdraws permit for Amherst solar facility, will rework request
05/11/2023 - Roanoke Times: Energix withdraws second solar farm proposal in Franklin County due to public outcry
03/17/2023 - Martinsville Bulletin: Trabulsi: Understand true impact of solar farms
02/06/2023 - The Carroll News: VHCR issues statement regarding Energix solar projects
11/22/2022 - Daily Press- Tidewater Review: Solar farm proposal withdrawn in New Kent
10/29/2022 - The Pulaski County Patriot: Supervisors reject permit for Shiloh solar project
08/05/2022 - Mint Press: Israeli Company and UN Human Rights Violator Energix Under Scrutiny for Environmental Violations in US
10/31/2021 - The Dinwiddie Monitor: Dinwiddie rejects solar project agreement
09/09/2021 - The Roanoke Times: Westlake solar farm plans scrapped by energy company